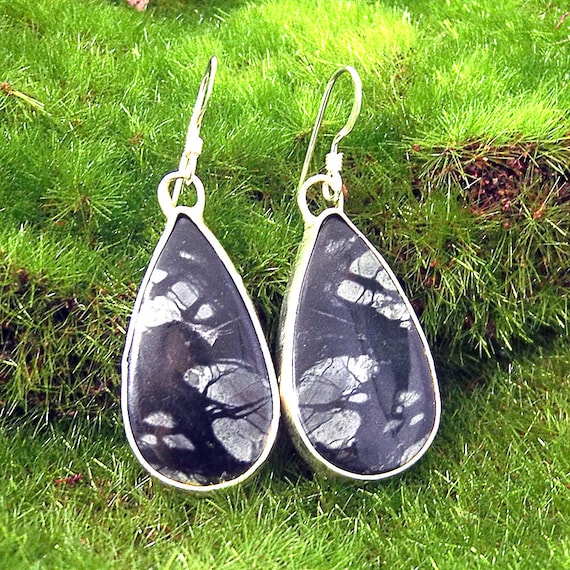 120.00 USD
These one of a kind earrings were feature on my Instagram feed for the 2018 Earring Challenge.

These earrings feature a pair of matching black Picasso Jasper gemstones. Each of these jasper cabochon is surrounded by a custom sterling silver setting designed for these stones.

These Picasso Jasper earrings measure approximately 1.6 inches long from the top of the earring hook to the bottom of the earring and 0.56 of a inch in width. The black Picasso jasper stones measure approximately 1.1 inches long by 0.56 inches wide.

Picasso Jasper is named after the great cubist painter Pablo Picasso due to the natural patterns of the stones being reminiscent of his artwork.

Picasso jasper offers it wearer clarity to understand your inner self. The stone will encourage you to persevere regardless of the difficulties in front of you. The energy of a Picasso Jasper reminds its wearer of their inner strength and encourages self-discipline when faced with negative temptations. This stone wants to see you live the life you are meant to live, and encourages you to go the distance to achieve your dreams.
from Etsy Shop for ElunaJewelry https://ift.tt/2wskj2r
via
IFTTT