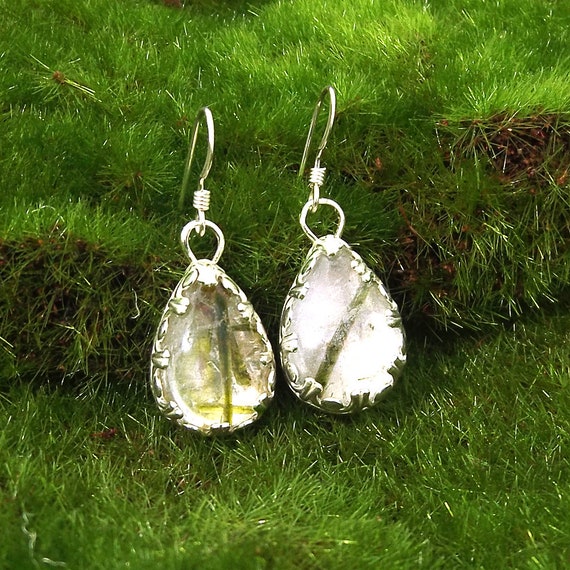 120.00 USD
These one of a kind earrings were feature on my Instagram feed for the 2018 Earring Challenge.

These earrings are created with teardrop cabochons that feature small prismatic crystals of Epidote nestled in quartz crystals. Each of these Epidote and Quartz cabochons is surrounded by a decorative sterling silver setting that was created especially for these stones.

These Epidote and Quartz earrings measure approximately 1.4 inches from the top of the earring hook to the bottom of the earring. The earrings measure 1/2 of a inch in width. The cabochons in these earrings measure approximately 5/8 of an inch long by 7/16 of an inch wide.

Epidote stones act as a magnet to attract like energy into your life. It is a great stone to practice the law of attraction as the stone naturally amplifies your vibration energy. Epidote encourages its wearer to transform their life to reflect a higher vibration. It aids those who feel stuck to find new and creative ways to move past their personal roadblocks.

Epidote in Quartz is sometimes call "Dream Quartz" or "Reiki Quartz".
from Etsy Shop for ElunaJewelry https://ift.tt/2rvf50X
via
IFTTT