For this week's spotlight post, I want to highlight
this beautiful necklace
!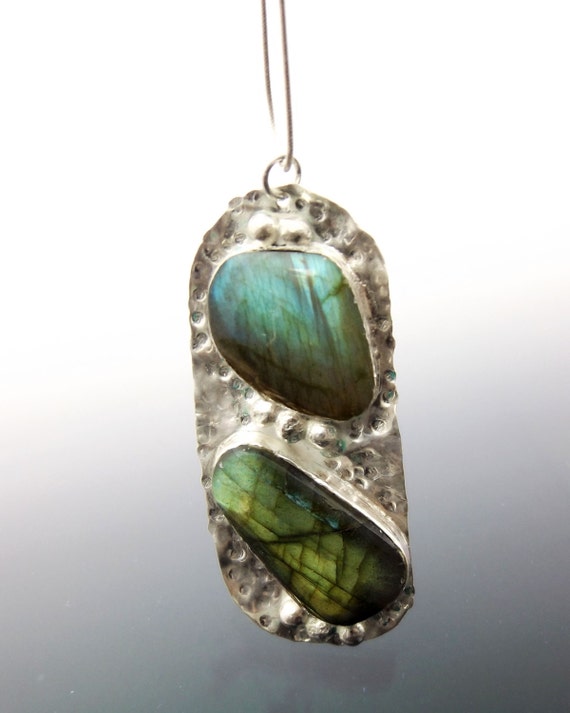 This wonderful necklace
features two hand cut free-form labradorite cabochons. I cut both of these stones in my studio. One has a wonderful golden green color and the other has a flash of teal.
I shot this picture with the necklace sitting up, as if it were being worn. I did this to show off the flash of the labradorite. In fact when I designed
this necklace
, I placed each labradorite stone in such a way that the flash would be visible when it was being worn!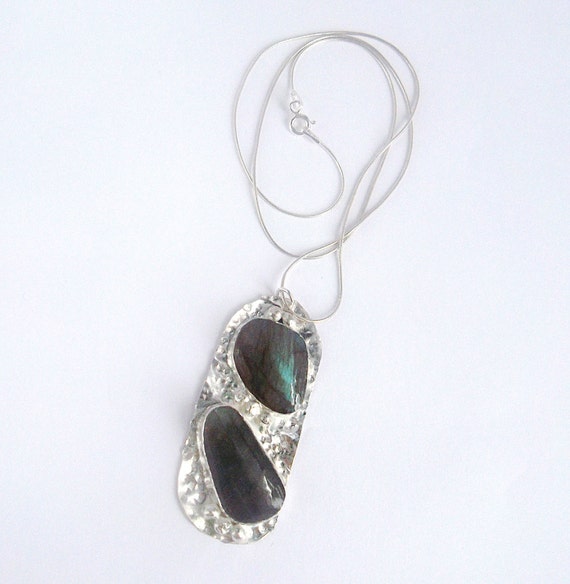 This photo was taken with the necklace laying flat, you can see how the flash disappears. This is common with labradorite, as the flash only appears when the light hits the stone from a certain direction. And that direction may be different for each and every labradorite stone.
These stones are set in sterling silver and on a sterling silver pendant. The pendant was hand formed and textured. I also added a few small granulation beads to this wonderful necklace to accent the hammered textures.
The final effect of the labradorite stones and the added texture on the necklace is a wonderful pebbled beach feel! I just love this piece and I hope you do too!
Here is a photo similar to what I had in mind when I named this piece.
Stop by today, and check out this
wonderful necklace
. And the other necklaces I have in stock! :)