Large Sterling Silver Hoop Earrings by ElunaJewelry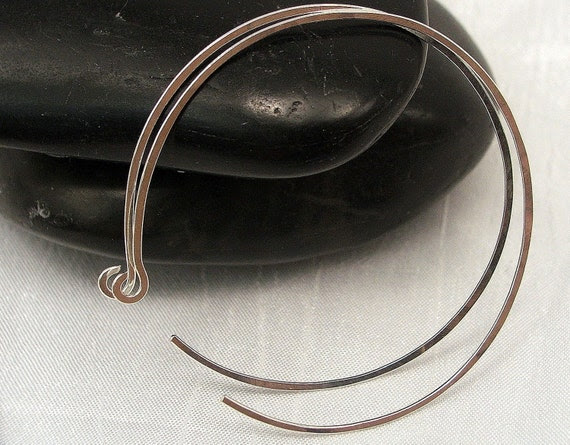 Become the goddess of your fairytale with these large silver hoop earrings. Lightweight, comfortable, and clasp less; these unique large sterling silver hoop earrings are one of my best sellers on Etsy since 2009.
Sterling silver is known as the metal of the Moon Goddess. Silver symbolizes pure feminine energy and is a mirror of the soul.
Created with comfort in mind, these large sterling silver hoops were created to slide comfortably into the rear of your piercing. To wear these silver hoops, you will insert them into your piercing and then gently tug them until you feel the circular catch on the back of your earlobe.
These elegant thin hoops are lightweight and designed for a standard piercing. This means they will not tear or stretch your earring holes.
If you would like to see a demo on how these hoops are worn, please visit my video demo!
http://youtu.be/p9FRWrmuC1M
//////////////////////////////
////////////////////////////
See More Artisan Jewelry at:
http://www.etsy.com/shop/ElunaJewelry
//////////////////////////////
////////////////////////////
~~The Metal~~
These hoops are made of solid .925 Sterling Silver wire. By using sterling silver, my hoops are durable, fashionable, and timeless. Unlike silver plated hoops, the sterling silver will not flake off over time.
~~Delicate~~
The delicate hoops are created to be the same thickness as a standard earring post. These awesome large sterling silver hoop earrings are made from 20 gauge sterling silver wire and then hammered flat.
~~The Size~~
This earring has a diameter of 2.0 inches or 5.1 cm. Other sizes are available.
~~~~~~~~~~~~~~~~~~~~~~~~~~~~~~
~~~~~~~~