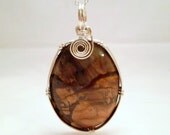 What a gorgeous picture. This is a great stone!! This picture jasper has been hand cut and polished by me into this beautiful designer cabochon.
Deschutes picture jasper has been found in a small deposit near the Deschutes River in Oregon. The area that this stone was originally found is now part of the Deschutes River state park and the actual stone deposit is under a highway. This means that deposit...
Click Here to Visit My Etsy Shop!