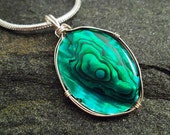 Created from the sea, this beautiful necklace features a brilliant green Paua shell pendant. Maori legend tells that the Paua Shell holds within it the energy of the sea. It is said to promote creativity and serentiy. Paua shells are considered TAONGA or treasure among the Maori people.
The Paua shell is create from salt water mollusks that can be found in the shallow waters off of New Zealand.
...
Click Here to Visit My Etsy Shop!