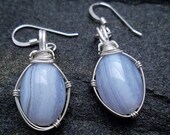 These beautiful earrings are created from wire wrapping natural blue lace agate cabochons.
Each earring is made from one 14x10 mm blue lace agate cabochon. The cabochons were then wire wrapped with 20 gauge half round sterling silver.
These elegant earrings would be a perfect accent to apparel for a business meeting, a wedding, a fun raiser, a church function or a date night.
<...
Click Here to Visit My Etsy Shop!