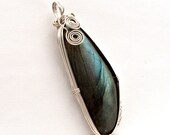 What a gorgeous Labradorite pendant. This is a great stone!! This labradorite has been hand cut and polished by me into this beautiful designer cabochon.
Labradorite is a wonderful stone. It can show a host of colors from pinks to blues to greens to golds. This stone has a cat-eye effect that shows off an iridescence the transitions between blues and golds.
The stone is wire wrapped with ....
Click Here to Visit My Etsy Shop!