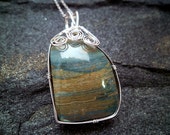 I cut this beautiful piece of Gary Green Bog Jasper recently. It is a stunning pendent set in a sterling silver wire wrapped border. This stone contains an awesome combination of colors from blues to browns. This is a high quality specimen of this stone, as it contains such a wide variety of color and hues.
About the stone:
This is a fossilized stone that was created when volcanic ash covered bogs...
Click Here to Visit My Etsy Shop!